Watch our webinar International IoT connectivity: overview and trends
Tune in to 60 minutes of inspiration, lessons learned and gain insights into trends and developments of global IoT connectivity & coverage.
Watch our masterclass
This Masterclass will help you to stay, or become up to date in the ever-changing IoT landscape. We will share a roadmap of innovations in the field of connectivity and share the global availability and roll out for several types of connectivity.
Key topics:
Learn about the KPN IoT portfolio and trends;
The worldwide phase-out of legacy networks;
Voice over LTE (VoLTE);
And … SMS: be prepared & SCEFNEF is the answer.
Watch the deep dive below and download the slides here.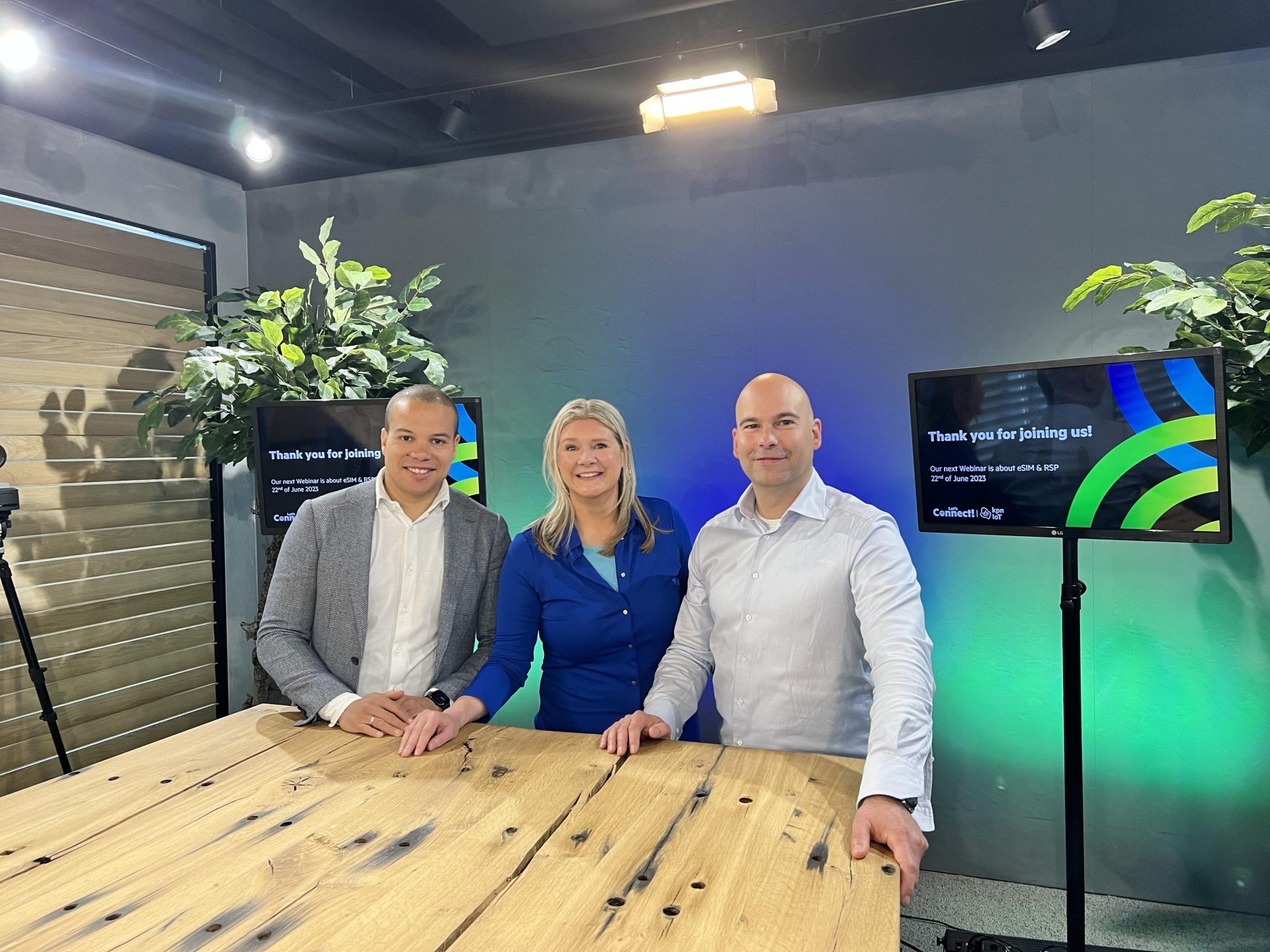 Frequently asked questions
You will be able to access and order all KPN IoT devices in our new webshop, set to launch in Q3 2023.
Your current plan will remain unchanged. However, with the introduction of our new propositions, you will have access to additional components that will be bundled into your plan, allowing you to make the most of our portfolio in the future.
KPN is currently prioritizing the modernization of our network. As part of this effort, we have already migrated the roaming interconnections to a new environment, which can effectively handle the expected growth in data usage and signaling. As such, we do not anticipate any negative impact on roaming traffic.
We already have a nationwide LoRa and LTE-M network in place, which we believe can effectively support most low-power and cost-efficient use cases. Hence, we do not plan to introduce NB-IoT in the Netherlands. For more information on LoRa and LTE-M, please refer to our
previous webinar on low-power IoT networks
.
Yes, this data is accessible for customers on our IoT Service Portal.
Certainly, when you are a customer you can find all the detailed information about sunsets and 4G and 5G roaming agreements, including LTE-M, on our IoT Service Portal. As part of our project to phase out the 2G network, we can also provide you with insights on your device's status within our network, which can help you migrate to a new solution. As a customer: please contact us via ServiceNOW.
Yes, after the sunset of KPN's 2G and 3G networks, your devices can still connect to 2G and 3G networks in foreign countries if available.
Yes, Cat-M1 (LTE-M) is one of the best solutions to replace 2G. However, we have noticed that the rollout of these networks worldwide is slowing down. For this reason, we also believe that LTE-Cat1 devices are a very good solution. If you want to learn more about these options, please check out our previous webinar about
low-power IoT networks
. When you are a customer you can also find our current amount of LTE-M roaming agreements on the IoT Service Portal. It's good to know that even when there is no specific roaming agreement, your device can usually still connect to foreign CAT M1/LTE-M networks.
Currently, we do not see any plans worldwide to phase out 4G networks. The 2G network lasted for a very long time (1992-2025+), while 3G had a much shorter lifespan. KPN sees 4G as a solution that will be available for a long time. We currently expect it to be available until at least 2030, when the licenses for the used frequencies will end.
Currently, KPN's 5G coverage is Non-Standalone (NSA). However, we are planning to introduce Standalone (SA) 5G in 2024.
The rollout of the 5G-SA network is expected to be launched in 2024, initially focusing on providing basic mobile connectivity. Over the next few years, the rollout will extend further, introducing support for IoT with specific Access Point Names (APNs) and additional features like slicing.
VoLTE is expected to be available in the Netherlands in Q1 2024. You can find more detailed information about this in the webinar that you will find on this webpage.
No, not every 4G/LTE device is compatible with VoLTE. To use VoLTE, your device must be VoLTE supported. Your device manufacturer can check if your device is compatible with KPN VoLTE.
Currently, only T-Mobile supports voice calls in the U.S. However, T-Mobile is planning to sunset 2G in April 2024, after which VoLTE will be the only way to continue making voice calls in the U.S.
No, VoLTE will not work automatically on all voice-enabled SIMs. You will need to adjust your Communication plan to use VoLTE. KPN can help you with this. VoLTE will be available for SIMs in the Netherlands starting in Q1 2024. VoLTE roaming will follow at a later stage.
All KPN IoT USIMs will support VoLTE. However, your device must also support VoLTE, which may require a device replacement.
Yes, specific settings such as APN will be required for VoLTE. KPN will share these settings when VoLTE is live.
We do not know. We do not have any influence on the decisions of other operators. For now, most operators will keep the MSC live to support SMS.
Within the KPN network, we expect the 5G SMSF to be introduced before the MCS is phased out. However, note that the 5G SMSF will only be supported for 5G devices. It is difficult to say what other operators will do. We do know that there is still a lot of worldwide development around the exact configuration of this feature taking place.
Yes, they do. However, VoLTE for LTE-M will be introduced later than Q1 2024.
Yes, it does. However, please note that wake-up SMS is not supported with VoLTE SMS as you need an active data connection to receive a VoLTE SMS. For now, most operators keep the MCS alive to support SMS. In the future, SMSF, which is handled in 5G, will be the way forward.