Living independently for longer with 'Eye in the Sky' from Hello 24/7 and KPN
The Internet of Things can provide a lot of support for healthcare. This is because it allows for remote care with a monitoring system. In doing so, you do need to consider a great deal of things. For example, ensuring privacy, delivering the highest security standards and making the solution as customer friendly as possible to use. In this article, Arthur Clement, founder of Hello 24/7, explains how they arranged this for their new solution that allows elderly to live independently at home for longer.
Approximately 20% of Europeans provide some form of informal care, for their parents for example. This can be pretty tough, especially if they live far away. Hello 24/7 offers a solution with help from IoT. 'Through our online platform, loved ones and family members can coordinate care among themselves and always keep an eye on things,' explains Arthur Clement.
The idea for Hello 24/7 came about several years ago when Clement was talking to a good friend. 'His mother had passed away, and his father was starting to get old anyway,' the businessman recounts. 'He was concerned. How can we properly provide support to Dad as a family? There are barely any modern services for the millions of people grappling with caring for their parents.'
People, services and technology
Hello 24/7, founded in March 2019, is transforming that. They make it easier for caregivers to be in touch with a person in need of care through an application and IoT module. At Hello 24/7, the caregiver is the family. 'We connect people, services and technology,' Clement adds. 'We do that with one central app where the children can easily manage their parents' care on a social and practical level.' The Hello Family app offers a central calendar, a task-sharing tool, and a chat and video calling feature. 'In this way, a personal care network of children, grandchildren, friends and neighbors is formed. So everyone can do their part.'
Another important part of Hello 24/7 is the ability to arrange services. These include delivering groceries, household jobs or the repair of a faulty central heating boiler. To do this, the company cooperates with carefully selected providers.
A self-learning system in the meter box
The above provisions give great peace of mind, but do not eliminate all of the worries. What if your father or mother becomes unwell or falls, for instance, how do you find out? The well-established alarm button is not always the best solution as about 50% of the elderly do not or hardly ever use it. This is without even mentioning systems that use cameras. Privacy is something you want to maintain at all times, therefore Hello 24/7, in collaboration with KPN, has developed a completely new form of personal alarm where freedom of movement and privacy are key. 'Eye in the Sky is a small box that is placed in the meter box and tracks the energy consumption of household appliances and lights. A self-learning system that recognizes regular usage patterns and then also deviations from that usage pattern. If the pattern of the single person living alone deviates, those involved in the Hello 24/7 app will receive a message. That's how you keep an eye on things together,' explains Arthur Clement.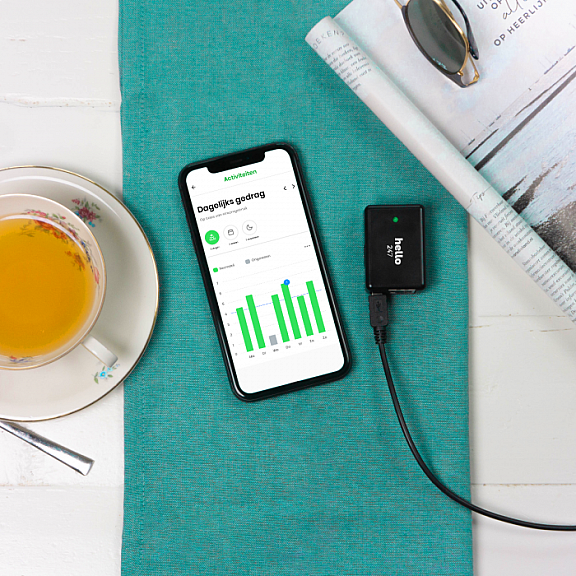 4G is more reliable than Wi-Fi
An ongoing challenge with remote care is the reliability of internet connections. All too often, Wi-Fi proves to be an uncertain factor. Hello 24/7 also stumbled upon this when they tested their products and services with dozens of families. A change of the Wi-Fi password or a reset of the router caused the connection to drop. An unacceptable risk for this vulnerable group. 'That's why we chose connectivity from KPN including the required 4G router.'
But KPN's role goes beyond that of IoT supplier. 'Our team can always talk to KPN's experts, for example about the technology. But I find it even more important that KPN is genuinely enthusiastic about our vision from the first contact. They're not looking at it from the business perspective and the number of orders, but are willing to put their weight behind it together. It turned out to be an excellent match. At its core, ofcourse, we are also doing the same thing: connecting people.'
Ample opportunities for growth
Since then, Hello 24/7 has grown into a full-fledged company. After the testing phase, the company is now ready for launch. Clement is thereby focusing not only on the consumer directly, but also on the intermediary channel. For example, health insurance companies and employers. Plenty of growth opportunities for Hello 24/7.
Besides Hello 24/7, KPN makes it possible to set up a reliable internet connection for every medical device, independent of environmental factors. You can count on:
Security & Privacy: With our strict security standards, you can be sure that everything is in order. The network meets the highest security standards, which are necessary to be able to access data (wirelessly) in the healthcare sector.
Flexibility: Choose to land the data in your own platform or use our platform. It is also possible to add connectivity to existing products or develop your own connected device with an eSIM from KPN.
Expertise: KPN has helped several medical customers with the development of connected devices. Thanks to the experience of our experts in the field of technology and the market, we are also regarded as the most professional connectivity partner within healthcare. We are happy to think through the opportunities for your business.
Want to know more about our KPN Things Router connectivity solution? Let's connect!