Smart disinfection in hospitals with Loop Robots
Completely disinfect a patient room in just 12 minutes? Loop Robots is revolutionizing healthcare with its robot SAM. For connectivity, the Delft-based company chose KPN IoT to be its partner. 'Because without reliable connectivity, it's just not going to work,' says Mark van de Vrede, Chief Commercial Officer and co-founder of Loop Robots.
Bacteria, fungi, and viruses are a major problem in hospitals. Recent figures published by the Dutch National Institute for Public Health and the Environment (RIVM) show that in 2021, more than five percent of patients contracted healthcare-associated infections. These infections can lead to health complications, longer hospital stays, higher costs, and sometimes even death.
Room disinfection is therefore a critical factor in hospital safety. 'But it's still a manual and arduous process', Van de Vrede points out. 'People are good at removing visible dirt, but you can't see viruses, fungi, and bacteria.' Plus, employees often don't have enough time to perform a thorough disinfection.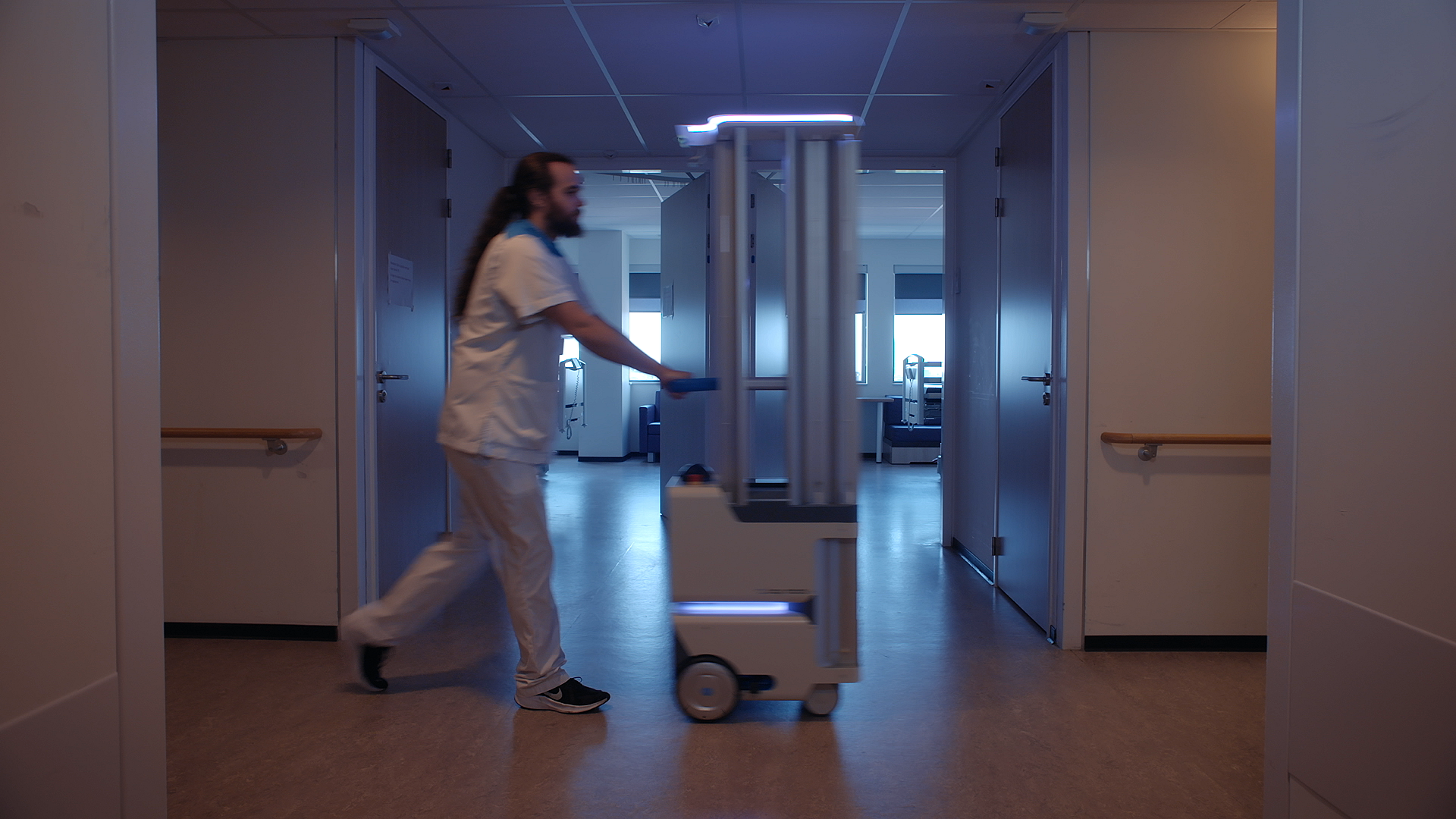 Eliminating human error
SAM is lending a helping hand in a growing number of Dutch and Belgian hospitals. This robot uses intelligent algorithms to map rooms and target sources of infection with powerful UVC light. SAM can eliminate up to 99.9999 percent of airborne and surface pathogens in less than 15 minutes. And it does so without using environmentally unfriendly chemicals and wipes.
'The main difference between robots and humans is that robots don't make human mistakes,' says Van de Vrede. 'When you use SAM, you can be sure that a room is always disinfected properly.' SAM communicates the quality of disinfection activities in a report that is sent to a cloud environment via an Internet connection.
Connectivity is key
Van de Vrede explains that connectivity is critical to SAM's operations. 'Our robots are getting smarter and smarter. We need connectivity to update the software remotely. Otherwise, someone has to physically go to the robot with a laptop, which costs time and money. Being connected to the Internet also means that if something goes wrong, we can look through the robot's eyes straight away. This enables us to provide remote support to the assisting employee.'
'You don't want to be dependent on a hospital's Wi-Fi network, for example,' continues the CCO of Loop Robots. 'Then you're also reliant on the availability of that network and the willingness of the IT department to connect the robot. Sometimes they prefer not to have external devices connected to the Wi-Fi network.'
KPN IoT M2M services
Loop Robots opted for premium connectivity via KPN IoT's M2M SIM cards. 'These are non-steered SIM cards,' explains Dennis de Zwart, Account Director at KPN IoT. 'That means the best network is always selected, regardless of where in the world SAM is deployed – whether that's in the Netherlands or Belgium, or in a hospital in Houston.' All issued SIM cards can be managed centrally through the Cisco Control Center.
'KPN was very helpful from day one and tailored the service to our needs as a startup and scaleup. And that without an extensive contract burdening us with all kinds of obligations,' says Van de Vrede. 'Right from the start, we were able to rely on the best network in the Netherlands, which is also scalable on an international level. We also benefited from KPN IoT's expertise in other areas, such as marketing. For us, KPN IoT is more than just a connectivity provider; it's a partner that actively listens and shares ideas.'
From patient rooms to cleanrooms
Loop Robots is now contemplating further applications for its disinfection robot. In the future, Van de Vrede sees SAM being used in the cleanrooms of pharmaceutical companies. 'Here, too, it's vital that the robot always has connectivity with the best security and that you're not dependent on the customer's network.'
Curious to find out what we can do for you? Feel free to get in touch.