Invacare creates mobility scooter of the future with KPN IoT
The Internet of Things (IoT) is increasingly being used in healthcare. Connecting healthcare equipment to the internet creates new opportunities. A recent example is Invacare, who have made their new electric mobility scooter connected. This smart scooter increases the mobility, independence, and freedom of users. In addition, it also offers several advantages for the suppliers of mobility scooters and their services.
As a producer, you are always working to improve your product and add more value for the end user. And so is Invacare. In particular, it is very annoying for mobility scooter users when the batteries run out during a journey. Anxiety about this can be an obstacle to getting out and about, especially in bad weather. That's why Invacare, in collaboration with KPN and Conneqtech, have developed a smart mobility scooter that removes this uncertainty.
Mobility is freedom
"Invacare's electric mobility scooters give people with limited mobility more autonomy. By being mobile, they can lead everyday life the way they want to, " says Mark Monteiro, Head of New Business Development at Invacare. "We have made our mobility scooter smart by providing it with KPN connectivity and an electronic module from Conneqtech. For example, this 'smart mobility scooter' transmits real-time data about the scooter, which we translate into an informative app for the end user and a dashboard for the equipment supplier."
The correct connectivity
"The mobility scooter is equipped with KPN's LTE-M connectivity. This means we have good network connections everywhere, we can receive data securely, and we are prepared for the future of mobile communication. KPN's LTE-M connectivity has a fast response time, is energy efficient, and is suited for permanent monitoring of signals. The power save mode allows for efficient energy use. This way, the batteries last longer, and the sensors can remain in one place for years without human contact."
Ease of use with app
The smart mobility scooter increases ease of use in several ways. Central to this is an app that provides the user with insights into the charge status of batteries remotely. This app accurately shows the charging status, so that it is easy to see how far can still be driven with the current batteries. This lowers the threshold for going out, even to destinations that are a bit further from home. The app also notifies you when the batteries need to be charged, or if the scooter has a malfunction. The user can also opt for a location tracking system. This is useful, for example, if something breaks unexpectedly during a journey. The technician is quickly on site to resolve the problem. And if the mobility scooter is stolen, then Invacare can help to find it using the location finder.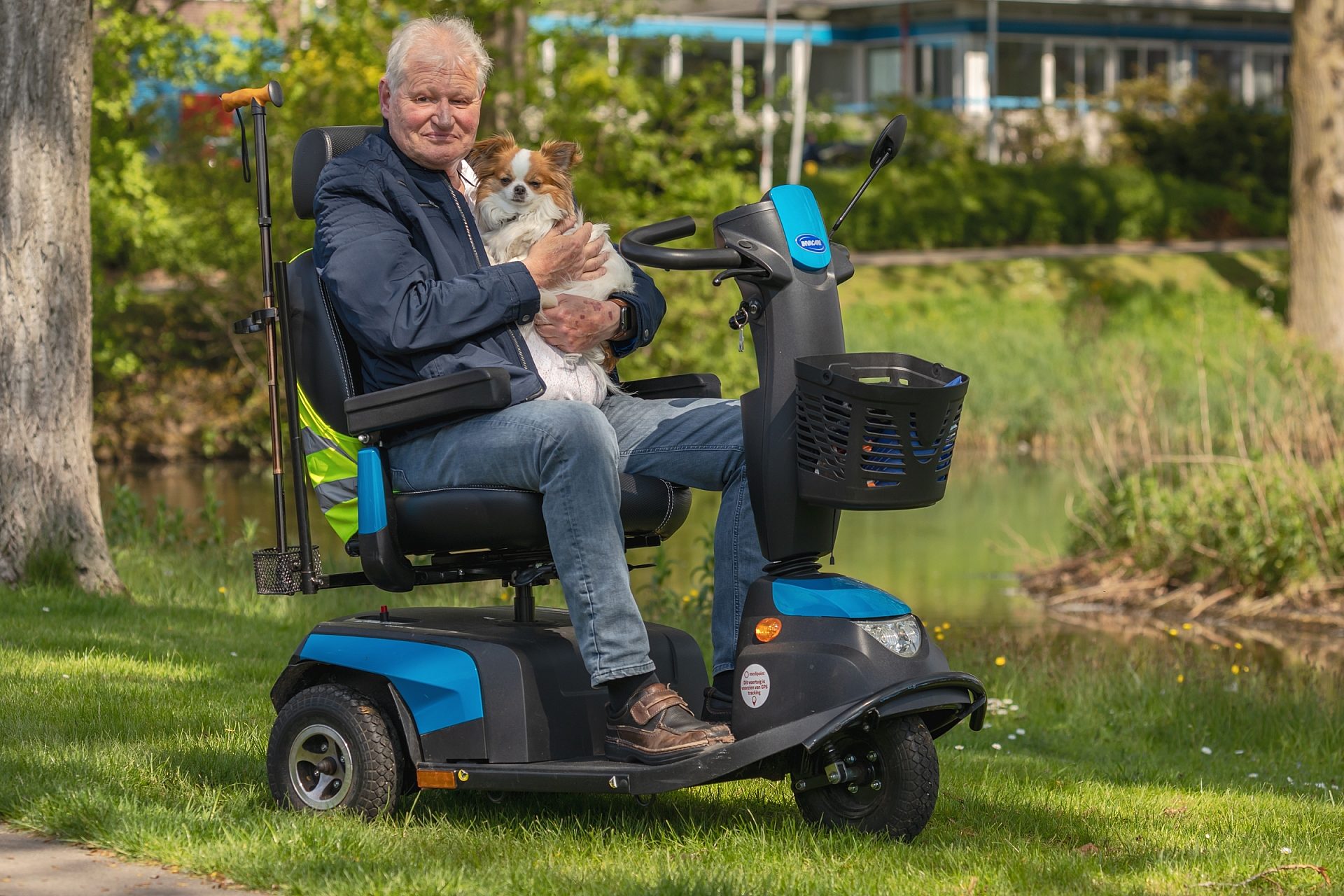 Dashboard for suppliers
It's not just the user who benefits from the connectivity, but also the equipment supplier who services the mobility scooter. Invacare has developed a special dashboard for the management of smart mobility scooters. This offers various possibilities to improve the service to the customer:
An assessment can be made about which type of batteries are most suitable for the user. Does this person regularly drive short distances, or less often and longer distances?
The supplier can provide tailor-made advice about charging batteries, so that they can be used more sustainably and for longer.
The dashboard provides insight into the location and possible malfunctions. This allows the supplier to send a technician with the right expertise and parts to the right location, leading to more immediately successful repairs.
The supplier can easily see when it is time for preventative maintenance. This prevents technical problems and ensures a more efficient deployment of technicians.
The improved service leads to greater customer satisfaction and loyalty.
Improved quality of life
"A smart mobility scooter increases the mobility of the elderly and people with disabilities," says Mark Monteiro, Head of New Business Development at Invacare. "At Invacare, we are always innovating, aiming to improve our products and make them more sustainable. Our starting point is to support people's mobility even better and in this way increase their sense of freedom. Thanks to the connectivity, they can always go out and about without any worries. They do not have to worry that they will come to a standstill somewhere, and they receive help quickly if something does go wrong. The location finder is also valuable for carers and family members who want to keep an eye on things."
"With this smart mobility scooter, vulnerable people can safely maintain their freedom of movement," says Carolien Nijhuis, director of KPN IoT. "It is a great example of how the Internet of Things can improve the quality of life. At the same time, it strengthens the bond between the manufacturer, dealer, and user."

Inspired by Invacare? Explore the opportunities of IoT for your product with our experts. Simply contact us here.