Octiva horticultural robots connected by KPN IoT
The horticultural robots of Octiva operate in greenhouses across the world. And often in remote areas. "But we need to have a connection with our robots at all times," says Thomas Hoeterickx, Business Development and Product Marketing Manager at Octiva. Thanks to KPN IoT that is no problem at all.
The Belgian/Dutch company Octiva specializes in robotic solutions for controlled environment horticulture in greenhouses, tunnels and suchlike. The robots of Octiva enable growers to automate manual procedures and make food production more sustainable and more efficient. "Reliable connectivity is crucial to the success of our solutions," Hoeterickx explains.
Collecting data
An example of such solutions is the Lumion. This robot treats crops with ultraviolet germicidal irradiation (UV-C) against fungal diseases. "Afterwards, the customer wants to be able to see exactly where the robot has been, how the treatment went and whether every plant is now protected. Data from sensors provide that information. Additionally, we can follow the robot while it's treating the crops and can take action if necessary."
Octiva operates the picking robot Rubion at strawberry breeder Fresh Forward. This robot not only picks the fruit but also collects data such as the color, shape and firmness of the strawberries. Hoeterickx says that data collection benefits both parties. "The data help Fresh Forward develop strawberries with a wow factor and which are suitable for picking by a robot. Octiva uses the data on matters such as the accessibility of the strawberries to optimize the robot and consequently the picking process."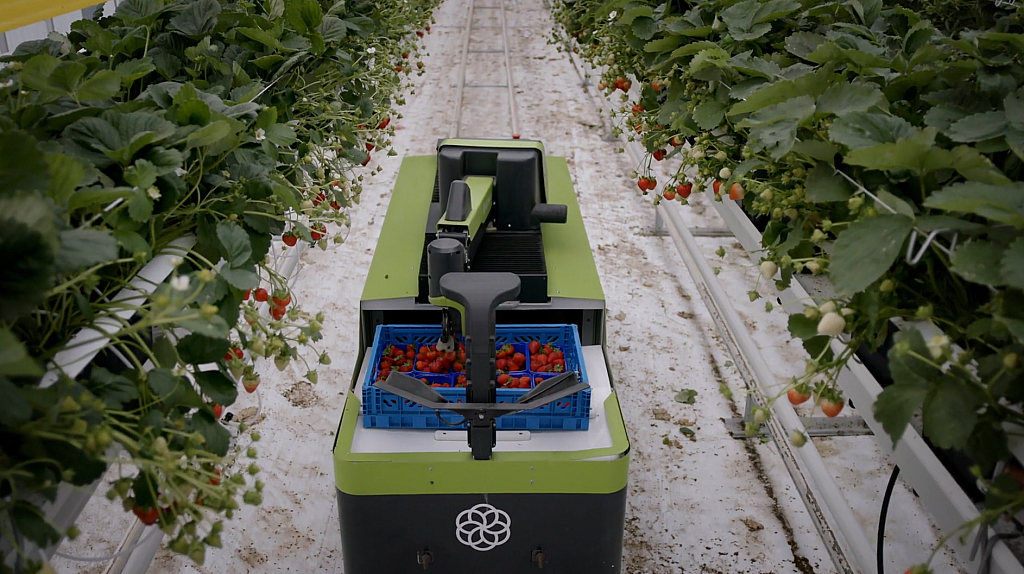 Direct insight
"The data from the robots have to be available on our servers as soon as possible," Hoeterickx continues. "Growers want to be able to see in real time where the robots are working, how many kilos they have already picked and the classes of the picked fruits. And if a robot malfunctions, we need to be able to see it straight away and provide remote assistance. So a stable connection with the robots is essential. Preferably end-to-end via 4G so that we can also send video images quickly."
Hoeterickx says, however, that reliable connectivity cannot be taken for granted in the horticultural sector. "Our robots are used all over the world, often in remote areas where mobile coverage leaves a lot to be desired."
KPN IoT: always connected
"For the connectivity we wanted to work with a single platform from a single supplier," Hoeterickx explains. The choice of that supplier of end-to-end 4G connectivity fell on KPN IoT. "Because of its international roaming agreements with a large number of parties, KPN can provide premium connectivity all over the world. We experience this in practice too. Robots with a KPN SIM card are already in operation in countries such as Benelux, Germany, the UK and Canada, often in remote areas. The connection is always excellent."
"What's more, KPN has the flexibility to switch rapidly between different rate plans," Hoeterickx adds. "We have defined several different rate plans in the KPN IoT dashboard. For each application we look at which of the rate plans is the most beneficial."
And through that dashboard Octiva can "see" the KPN network and follow the status of the SIM cards. "If a robot doesn't come online, we can find out very quickly where the problem lies. KPN IoT's tools help us to react swiftly and offer our customers an outstanding service. All the information is assembled in one place."
Sit down with specialists
"It's important to collaborate with a partner that understands your wishes and needs and that contributes ideas on what the best solution is," Hoeterickx concludes. "We had a good feeling about KPN IoT from the outset and we sat round the table with the specialists themselves."
Curious what we can do for you? Feel free to contact us.